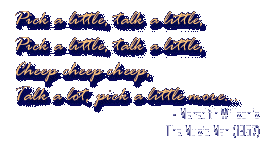 Ludwig and Datz ...
Datz and Ludwig ...
"Datz Much Better!"
He's "On" and She's "Off"... Broadway that is!
New York's theatre-sweethearts, share a busy schedule and bedtime together!
STAR TALK recently caught up with James Ludwig currently featured in Monty Python's SPAMALOT and wife Lisa Datz who is starring in the Off-Broadway comedy, IN THE WINGS. Here's what the married couple had to say about their own personal "backstage" drama!
Q: When did you two meet and marry and do you get to spend your days together considering you're both on the same show schedules?
A: We met in New York and got married in 1999 at the Sundance Resort in Utah. We spend as many of our days together as humanly possible! Lisa does a lot of voice over work as well, so she's running around to auditions for that when not rehearsing or auditioning for other things... Sometimes just coordinating one free day together takes planning. It's worth it though, and as we often say to each other, "Well, it's never dull."
Q: Jimmy, you could be in Spamalot for the next 5 years or more. Would you like the opportunity to star in a vehicle with Lisa, even if it meant leaving the security of being in a mega-hit? And Lisa what roles would you like to play with Jimmy if that could happen?
A: JIMMY: I'm just looking at the contract I have in front of me these days. The contract I have at this moment takes me into the fall, and then we'll see what happens. Of course I'd love to star with Li in a show — you know, we've never had the opportunity to do a show together! I'd say a comedy of some kind would be at the top of my wish list.
LISA: Wow — that is such a juicy question! I would LOVE to do Cat on A Hot Tin Roof together, Brick and Maggie. Or Beatrice and Benedick in Much Ado — now THAT would be fun.
Q: Is it always "shop talk" when you both get home from the theatre every night or do you have a "curfew" on the work day?
A. I'd say we do about 10 minutes of "shop talk" and then move on — what happened to us that day etc. We are lucky to have some really amazing and accomplished friends who have all sorts of careers and interests. So that keeps us talking about all sorts of things. And of course we have other interests as well — Jimmy's a bit of a computer geek and a Scotch maven, and I love horses and travel, so it seems that the conversations keep changing. Sometimes we get caught up in biz talk - I imagine that happens to most people who feel very passionate about what they do. We try very hard not to fall into that "bringing the business home" rut.
Q: Are you guys planning on having any "little Pythons" come into the world in the near future? And would you both encourage your children to follow in your footsteps?
A: Hmmmmmm....not in the immediate future but it's certainly something we've talked about. I can't say I would encourage them to pursue this profession but I certainly wouldn't "forbid" it — then they'll definitely want to do it!! I wonder if reverse psychology works.....food for thought.
Q: Lisa, tell us a little bit about your character in IN THE WINGS and are there any similarities to "the actress" you are playing?
A: Melinda is na´ve, ambitious, new to the business, with a lot of potential — going through the Bohemian, starving artist phase that most everyone goes through at some point, with her boyfriend, also an actor. It takes place in the late1970's, so there is definitely a naivete that she and Steve have that most young people wouldn't have today — things are so different. But it's also a farce so you have to go with the "heightened" reality a bit as well. The best part is I'm working with SUCH talented, wonderful people. If we can stop laughing long enough in rehearsals, we may actually have a show!
Sure there are some similarities — I'm not quite as na´ve as she is, but I certainly have my moments and still do sometimes. Jimmy and I have been pretty lucky to work a lot but believe me, we have had our panicky moments, as Melinda and Steve do.
Q: What advice can you both give other actor couples who may be considering exchanging vows and sharing "Dark Days"?
A: JAMES:
I'd say this to an actor couple thinking of marriage: If you're thinking about how hard it will be prior to the wedding, you probably shouldn't get married. The challenges we face in this business need to be faced by a couple that simply wants to be together, regardless of what obstacles are in the way.
A: LISA:
I admit to having been initially afraid that two actors together was going to be really complicated. It has its moments, but we've learned to make it controlled chaos. We understand things with each other that don't need explaining and we have a REALLY great time in the process — things are rarely dull Chez Datz-Ludwig, that's for sure. And supporting each other through thick and thin — it's so cliché but anyone can be there for you when things are great. The true test is holding each other through the stuff you think you'll never get through. And in this profession, we certainly deal with some unusual victories and unusual setbacks.


---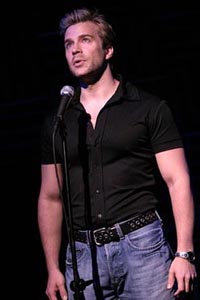 Photo © Ben Strothmann

Welcome to STAR TALK, as part of MATCH-TIX Promotions (an additional service of MATCH-TIX), we will be bringing you on-line interviews with some of Broadway and Movies most popular stars!

First up is Danny Gurwin. Mr. Gurwin most recently starred on Broadway in Little Women opposite Sutton Foster and Maureen McGovern. Danny's numerous theatrical credits can be found on his website www.dannygurwin.com.

We recently sat down for a little "Star Talk" with Danny and here's how it went!

Q: Danny, how do you react when people refer to you as one of Broadway's "new leading men"?

A: Being referred to as one of "Broadway's new leading men" is of course a thrill! Being an actor can be such a difficult road, in general, so I'm not only thrilled with the work I've gotten to do, but thrilled other people have noticed a little. It's a title I hope to keep deserving.

Q: With ever increasing revivals on Broadway, what classic roles would you like to play?

A: There are so many great roles, it's hard to say. I love Camelot, Brigadoon and even more contemporary shows that (I'm sure) will be revived soon enough like Sunday in the Park with George. I'm sure they'll revive The Scarlet Pimpernel very soon too... like to try Percy this time around.

Q: With so many young talents getting discovered on "reality based" TV series, in what ways can today's stage actors create "names" for themselves.

A: Creating a name for yourself isn't easy. Whether it's TV or Broadway, it isn't always about talent. So much of the industry is perception. That's why some reality stars go on to bigger and better things, and some disappear. If they become popular, something in them really appeals to the public, and producers and networks jump on that. Broadway can be similar. One show or one award or one review can boost people into the limelight... and some stay, and some don't. The trick is knowing what is what, and that is all opinion, and that opinion can all be perception. Scary, and kinda confusing, but kinda true.

Q: What changes or trends in casting for theatre have you seen in the past ten years of your career?

A: That's easy. Stars. Stars. Stars. The state of the art; the expense, the waning audience interest. I've seen a definite shift toward always having a name draw in a show. Occasionally, they'll go without one, and sometimes that person will even become a star... but if an LA actor is on hiatus from their TV show, fuggedaboutit.

Q: What's coming up next for you and how will you be spending the holidays in 2005?

A: Next for me is a little break. Regroup, and decide what I'd like to do this fall. May be doing some master classes at a university, and may even try LA for a while. See above answer... lol. I'd like the next show I do to be really special, and I may have to wait a while. Who knows?! That's what can make this business so exciting. You never really know what's next...

Stay tuned for the next issue of STAR TALK for a chat with Chitty Chitty Bang Bang's Truly Scrumptious ERIN DILLY!


---
Past STAR TALK interviews:

MATCHTIX.COM and all images and content on this site are the sole property of www.matchtix.com.
MATCH-TIX Group Sales, MATCH-TIX Promotions, MATCH-TIX © 2005 - 2015 MATCH-TIX Promotions. All Rights Reserved.
240 West 44th Street, New York, NY 10036 Tel: 212.354.2220 E-mail: MatchTix@aol.com